There are people that I don't like, people that I just don't care for.
I have enemies. People tryna drain me of my energy. I can't be friends with everybody. *shrugs*

Psalm 23:5 "You prepare a table before me in the presence of my enemies."
Now when I heard this scripture, I would receive it in the worldly realm. Like basically I'm gone get the chance the stunt on them. Be coined up real soon (this was for all the job rejections I got post-graduation). Sitting around waiting for my glow up like…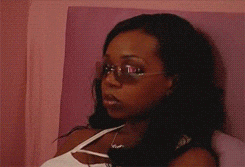 Because that's what God said, right? He's going to set me up so I can shine on my haters? Set me up so they'll come back graveling and apologizing? Jobs will realize they made such a huge mistake not hiring me and will call me and beg me to work for them and offer me a ridiculous amount of money. (I have a vivid imagination. I should really focus on writing fiction.) Then of course, I will have the opportunity to shine on my haters.

Then God was like grow up and put it into context.
As I follow God, He has vowed to protect me. The weapons won't prosper therefore I have no reason to be fearful. And when He prepares the table, it is not to brag or boast but to show how He continues to keeps me.
He's setting me up for peace and deliverance and grace. Propelling me towards greater. He's working on me, changing me, using me and molding me into someone He can use, not someone who's vengeful and so full of herself that she feels as though she deserves anything from anyone. The blessings are put in place so that I may extend that same grace and mercy to my enemies.
God is going to be good to me because that's who He is. But he isn't doing it solely for my enemies or people who don't like me. It's not only for them to see me prosper and do well. That's surface level. It's about me trusting His plan when I wanna cuss someone out. It's about me not trying to keep up with the Joneses or be sad about the latest job rejection. Those used to hurt. But vengeance isn't mine; it's the Lord's. And the true reward is in heaven. These experiences, adversities, defeats are all in preparation for something greater. No experience will go to waste. I fell out with ol girl and broke up with ol boy or got yet another rejection email because none were part of my destiny. Or maybe I was putting way too much time and energy into sustaining those relationships versus spending time with the One who loves me most.
Here's what my table looks like: peace, love, wholeness, an identity in Christ, favor I can't explain. Nothing materialistic. I don't want people to look at me for things but to look at me and see God's light shining through me. I want people to see that despite of whatever they did to me or what I did to them (because believe it or not, I am no angel), that God still extends His protection to me because that's how good He is.
So when God sets the table, remember what got you there. How did those things get on the table? How did you gain that peace? What did that mercy save you from? What benefits did that favor grant you? What did you recover or gain? What did you lose? How many rejections did you receive? How many friends did you lose?
As always, take what you need and leave the rest.