For a while, I've been considering giving up alcohol completely. Now while I am writing this, I must be transparent and let you know that I am nursing a hangover but stay with me…
I have this hangover because in my consideration of not drinking, I've been drinking less. Much less. So much less to where all I really need is one drink and it's lights out. So prior to the day in which I acquired said hangover, I can't tell you the last time I went somewhere and had more than one cocktail. Jamaica in January I think but even then, I didn't get drunk. Needless to say, a day of day drinking was a bad idea.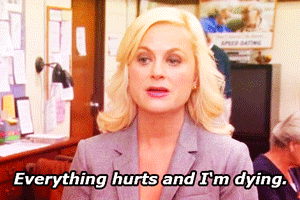 Anyway, I plan to give up drinking for many reasons. One of the most obvious being hangovers. These things take me out. All the way out. Recovery time is ridiculous because I'm old and I'm also very angry at the time wasted trying to shake back. Like come on, Kay, damn. Second, alcohol does nothing for my waistline and I prefer to eat my calories. Give me pizza and ice cream over booze any day! Third, alcohol isn't that great if we're completely honest. You gotta add juices and berries to make it taste better. It's not worth it is all I'm saying.
Randomness that has nothing to do with anything:
I read In His Sights and y'all it was so good but crazy! It's a memoir about a woman who was stalked by her ex. It's high suspense and what's crazy is she had to start living under a fake name because he kept finding her because rich white men have endless resources. She was in Europe and he had people stalking her. Some man came up to her and punched her in her chest! But what's crazier is she STILL lives under her fake name. This has been going on since the 90s! Moral of the story: I don't know. I was going to say don't date rich men but who wants a broke man?
Lately I've been buying the single bananas at the grocery store because no one ever gets those and I know what it's like to not get chose.
While I am trying not to have an opinion about Cardi and her uterus, can someone tell her "I told you so!" From me. No one was saying she couldn't perform and continue with her career but that she's going to have to slow down because she's growing a human! And here we are.
So far this week, I've had the opportunity to cuss 3 people out and I passed on each one, choosing peace instead. Right now, all I can think about is all the stuff I could've said though. Don't you hate that?!
Just so we're clear: Kanye, Nasir, Sabrina Claudio and Robert Kelly have been cancelled. I finally stopped listening to Robert a while ago (when Buzzfeed released this investigative piece about him) but I wonder why we waited so long to be outraged. But better now than never.
Alright yall. It's been fun. See yall next week.